Jiofi.local.html is a local IP Address which is used for accessing the admin settings page of JioFi routers. We have been witnessing a telecom revolution for the last six months.
The Reliance Digital has come up with a new network called Jio and took the Indian telecom field by storm. Along with the SIM, they have launched JioFi, a WiFi hotspot device as well. By now, the company has brought two different variants (JioFi 2 and JioFi 3) of the hotspot device.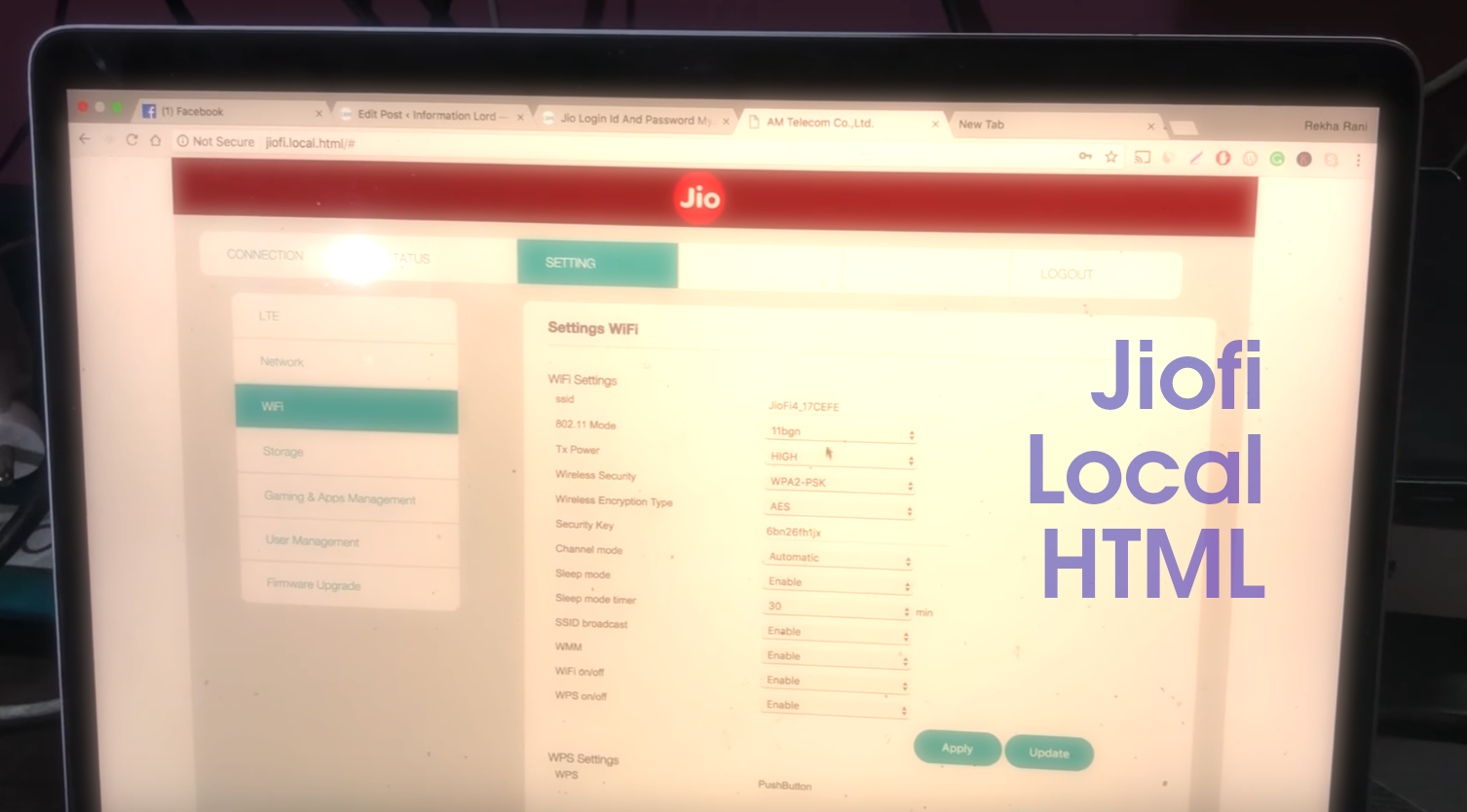 When you get a JioFi for the first time, you have multiple questions in your mind. One term can answer to most of the questions, jiofi.local.html.
In this article, we are going to have a deep look at what it is. If you read this article carefully then you will learn everything about Jiofi.Local.Html. Learn How to Use it and you will know the login username and password of JioFi 2/3. So without further ado, let's get started into the core of this post.
Important: JioFi is really a low end router, you should check these best gaming routers for 2018 and choose one. You can thank me later :).
What is jiofi.local.html
Let me ask you one thing. What is 192.168.1.1?
It is the IP address of your router. I mean most of the routers! Once you enter the address into your browser, you will be asked to provide the username and the password (most of the times, admin and admin).
After providing the correct username and password, you will have many options to configure your router. You can change the password, monitor the devices connected to your network, and a lot more. Simply put, jiofi.local.html to JioFi is what 192.168.1.1 or 192.168.0.1 is to your router. Yeah, you can use this IP address to configure the settings of your JioFi hotspot device.
How to Login to Jiofi.Local.Html
If you want to change the default credentials of your JioFi device, then you have to log in to your jio router admin dashboard. You can do this by going to Jiofi.Local.Html and entering the username and password for your device.
Well, let me guide you through the step by step guide on how to login to your JioFi 2/3 device's admin dashboard. Start following the step by step guide below.
Step 1: Open Firefox browser and enter http://jiofi.local.html, now press enter.
Step 2: Now you will see the status screen with some details like how much internet speed you are getting and what's the condition of your device.
Step 3: Next on the top-right side you will see a button saying "Login," click on that.
Step 4: Now it will ask you for username and password. Just enter the following username and password in those fields.
Username: administrator
Password: administrator
Step 5: After tying the username and password press enter and now you will be inside your JioFi's admin dashboard, at this moment you have successfully logged into your JioFi's dashboard.
Also Read: TPLinkwifi.net Log In (*Fix TPLinkwifi.net is Not Opening*).
How to Change Password of Your JioFi Device
Not to mention, you can change the password of your JioFi router from the same admin dashboard. Follow the steps given below for that.
Step 1: First, you have to connect your device to the JioFi network. How can you connect to it without password? Well, there will be a default password on the leaflets you got with the device.
Step 2: Open your favorite browser (no matter what it is. Chrome, Firefox, Opera or anything else).
Step 3: Enter jiofi.local.html into the address bar. Make sure you enter the same. Better copy the address from here.
Step 4: As in the case of a normal router, you will have to enter username and password. The default credentials of JioFi is administrator, administrator. Type those into the given field.
(You can change the credentials later)
Step 5: You can see the configuration screen of your JioFi device now. We are going to change the WiFi password of your device.
Click on Settings from the screen you see now.
Step 6: On the window that comes at this step, you will see a tab named WiFi settings. Click on it.
Step 7: You get three options here; SSID name, WiFi password and the mode of the channel. Change whatever you want and hit the Save button.
That's it. Now no one can use your JioFi WiFi network using the old password.
Check How Many Devices Are Connected To JioFi
JioFi 2 and JioFi 3, both of the devices allows 32 simultaneous connections. Yeah, so you should keep a track on the connected devices whenever you feel the network is slow. So, how can you do it?
Just follow the step by step guide below to learn how to do that.
Step 1: Access the wifi configuration page by entering 192.168.1.1 into the address bar of your browser. Don't forget to connect to the wifi network first.
Step 2: Enter the username and the password. You know the default credentials, don't you?
Step 3: You will get a tab named "Network". Don't hesitate to click on it.
Step 4: Scroll down a bit to see the LAN client list, once you find the link called "Client List" click on it. You can see all the details (Name, IP, Mac Address, Leased Time and Status) of connected devices there.
I hope now you know everything about JioFI router login. You got a few tutorials to configure the hotspot device as well.
Do you have any more doubts about it? Or do you face any issues while you try to access jiofi.local.html?
Don't hesitate to scribble down your issues into the comment section down below. Moreover, I appreciate if you share this with your friends and followers on social media.